Membership Resources
Lite Membership Cost (one year) is $399
Premium Membership Cost (one year) is $599
Note that Clients (subscribers to one of our monthly research pubications) receive a complimentary Lite Membership for the duration of their research publication subscription. Those who were Clients prior to the launch of the new website (October 2016) are grandfathered in to receive Premium Membership for as long as they remain subscribers to the research.
Both Lite and Premium Members receive unrestricted access to all articles published on the site, including delayed release of the opening statements for the Intelligent Investor, Dividend Gems and the CCPM Forecaster.

Both Lite and Premium Members also receive access to the Member Video Library which contains numerous videos on a variety of topics from global economics and securities analysis to investment education. Some of these videos are from the monthly research publications but have been added to the video library at a later time. However, these videos are relevant.
Both Lite and Premium Members also receive access to the full Audio Library which contains a variety of educational topics.
Both Lite and Premium Members also receive special discounts on select products.
Both Lite and Premium Members also receive an annual rate lock-in. As long as they renew their membership within 30 days of expiration, they will pay the same price each year for as long as they remain a Member.
Premium Members also receive access to two special video series on securities analysis, special videos, as well as select Market Forecasting video archives and select global economic presentations (some delayed, some current). See the bottom of this page for more on this.

Click here to sign up and submit payment
Your annual Membership entitles you to receive the following benefits:
1. Full Access to All Articles on the AVA Investment Analytics Website
More than 1100 articles and custom-made videos (and growing), spanning over 60,000 pages and hundreds of hours of viewing time. The majority of this content is exclusive and cannot be found elsewhere.


All of the content is UNIQUE, with no reposting or rehashing of news.

Virtually all of these articles and videos are extremely educational; you aren't going to get this education ANYWHERE ELSE.


Most videos were made by Mike Stathis exposing the reality behind these charlatans, crooks and idiots.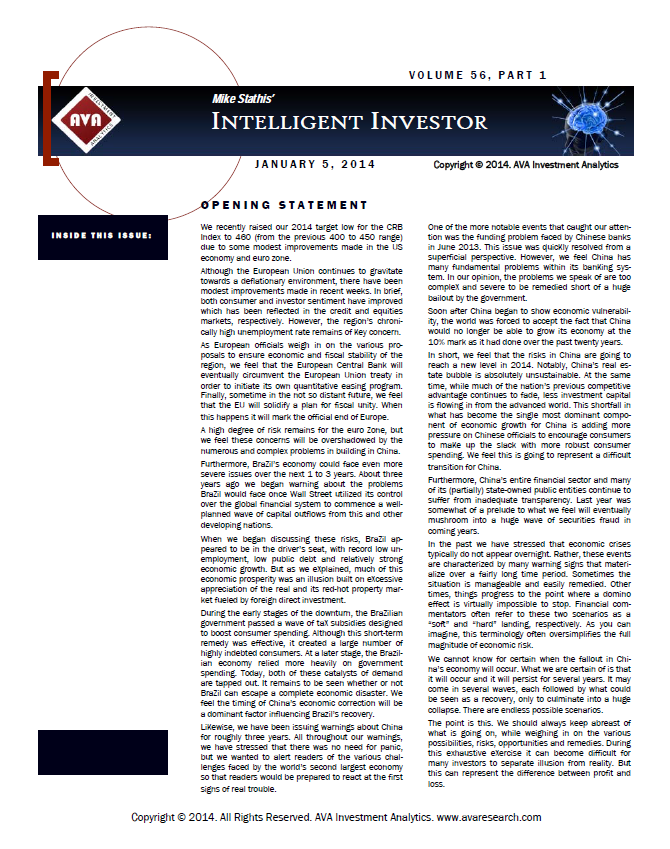 2. Partial Content from the Intelligent Investor (Opening Statements)

These publications will be on a delayed basis and will be restricted to brief economic analysis, commodities overviews and/or general market discussion.

Click here to see an example.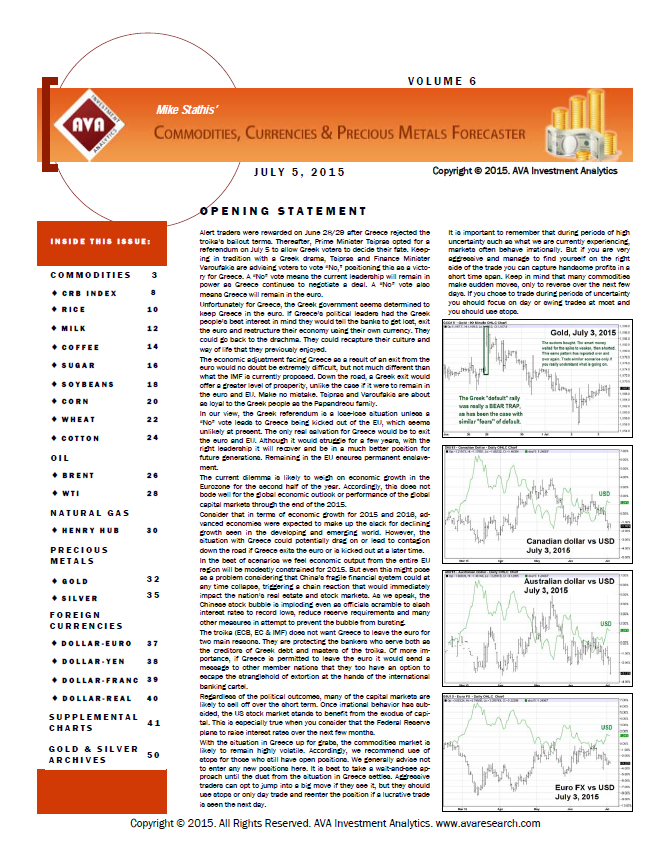 3. Partial Content from the CCPM Forecaster (Opening Statements)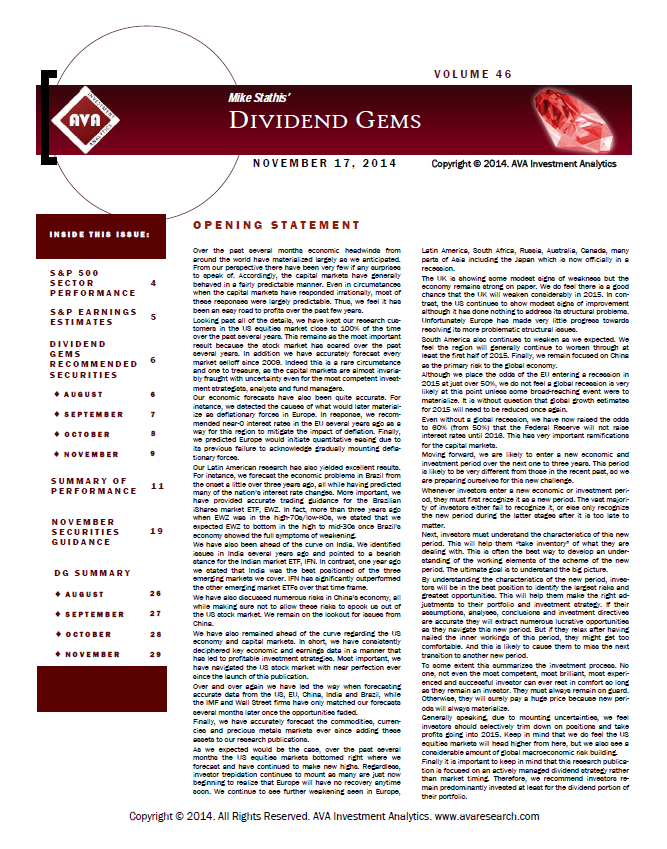 4. Partial Content from Dividend Gems (Opening Statements)
5. Full Access to the Member Video Library (2012 through current)

Videos include securities analysis, trading and other topics.




See below of a list of all current videos
6. Full Access to the MP3 Audio Library

This is our newest addition of unique content, featuring random, unrehearsed, unedited audios of Mike discussing everything from economics and investment tips to politics, media fraud and con men.

See below for a list of all current MP3 audios restricted to Clients & Members

Click here to check out the MP3 Library
7. Full Access to the Special Reports Section of the Library
8. Special Discounts on Select Research Publications
9. Special Discount to the AVAIA Investment Boot Camp
10. Early Notification when New Articles are Released
11. Full Access to the World's Most Comprehensive and Educational Portal Exposing Charlatans - The Encyclopedia of Bozos, Hacks, Snake Oil Salesmen and Faux Heros.
Click here for a brief introduction (note the full resource is enormous)

SPECIAL BONUSES
In addition to the numerous educational videos accessible in the Member Video Library as well as complete access to more than 800 articles and dozens of special documents hand-selected by Mike Stathis on the website, including our legendary Encyclopedia of Bozos, Hacks, Snake Oil Salesmen and Faux Heroes…
All New Members and all Membership Renewals will receive complimentary access to the following publications: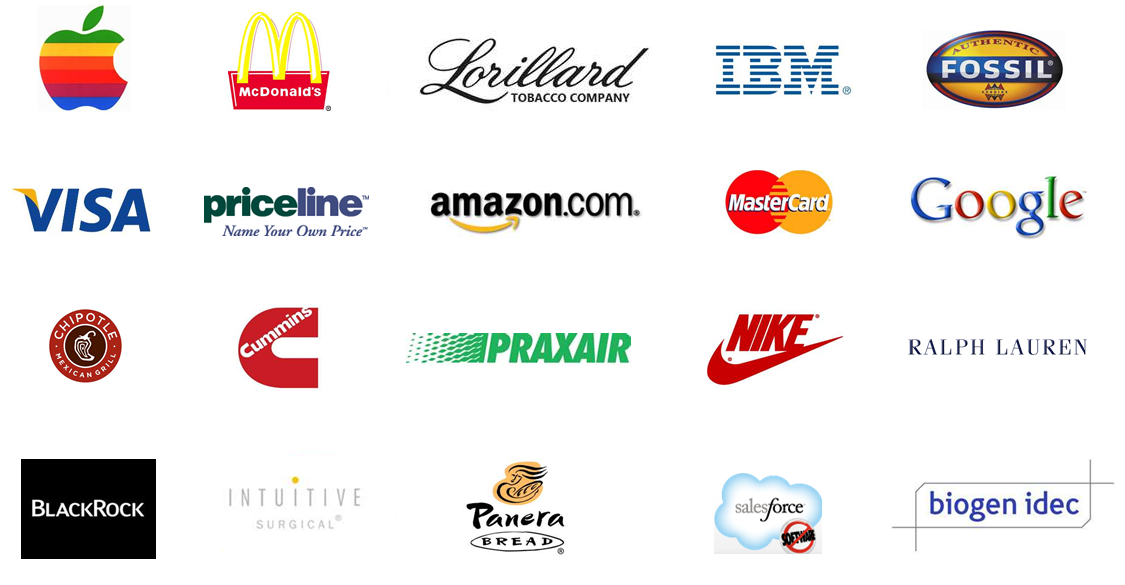 BONUS #10: 60 Stocks Poised for HUGE Moves
See here for Membership Benefits

In addition to complete access to the massive publication, the ENCYCLOPEDIA of Bozos, Hacks, Snake Oil Salesmen and Faux Heroes (which is constantly growing), in addition to having full access to the constantly growing list of extremely educational and insightful articles written by Mike & Co. (over 1000 articles to date), we also provide Members with access to numerous videos contained in the Member Video Library.
If your intent is to learn about investments from one of the leading authorities in the world, website Membership offers an initial entry.
We are constantly adding videos to the Member Video Folders all the time. Some of these videos are Global Economic Analysis presentations from the Intelligent Investor (released on a delayed basis), some are securities analysis videos, all are extremely educational.
Below is a list of videos currently available to Members.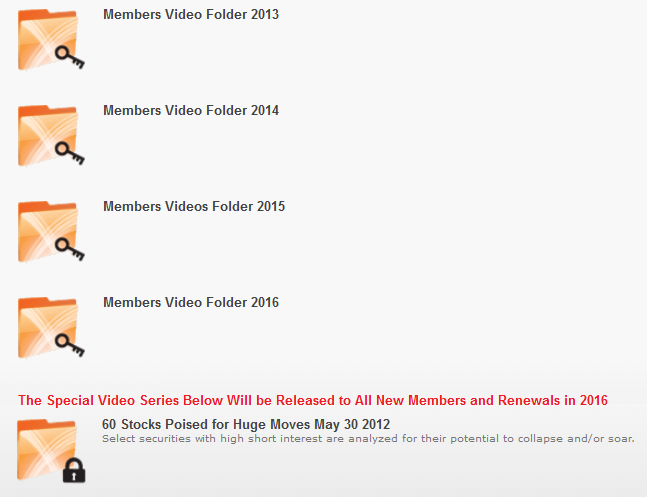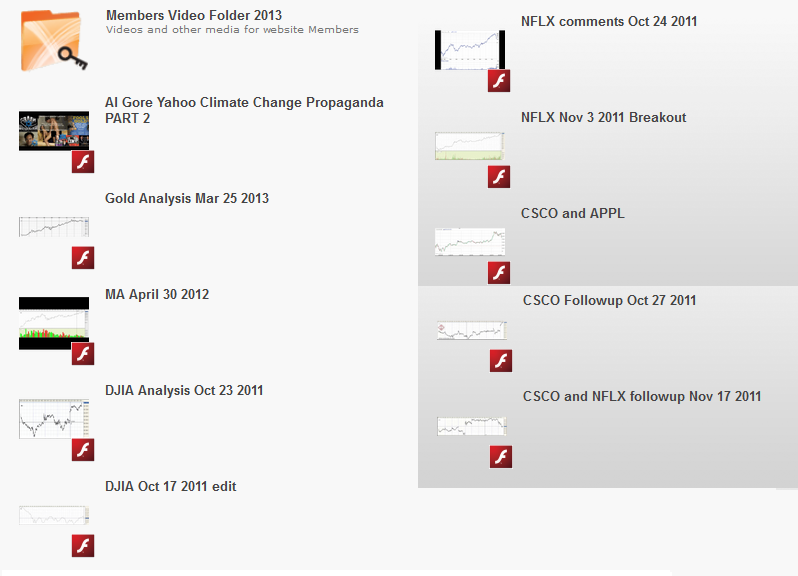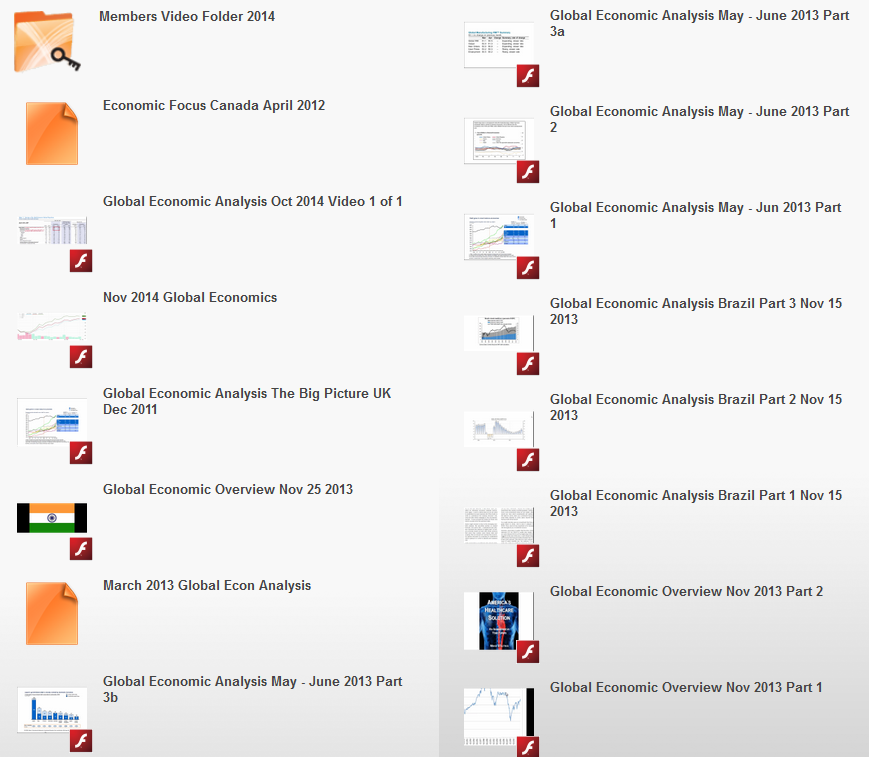 The newest addition to the content reserved for Members and Cients is the MP3 Audio Library.
MP3 Audio Library
(we are constantly adding to the library)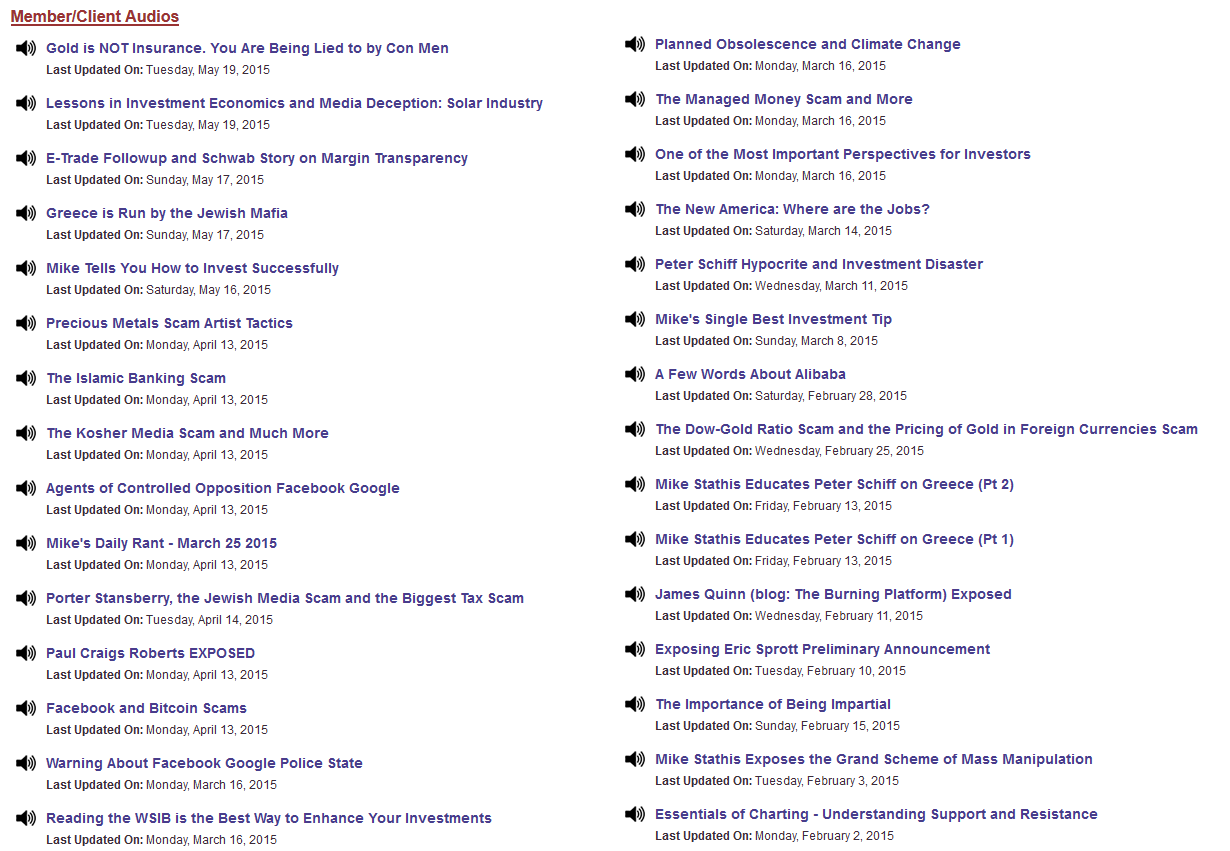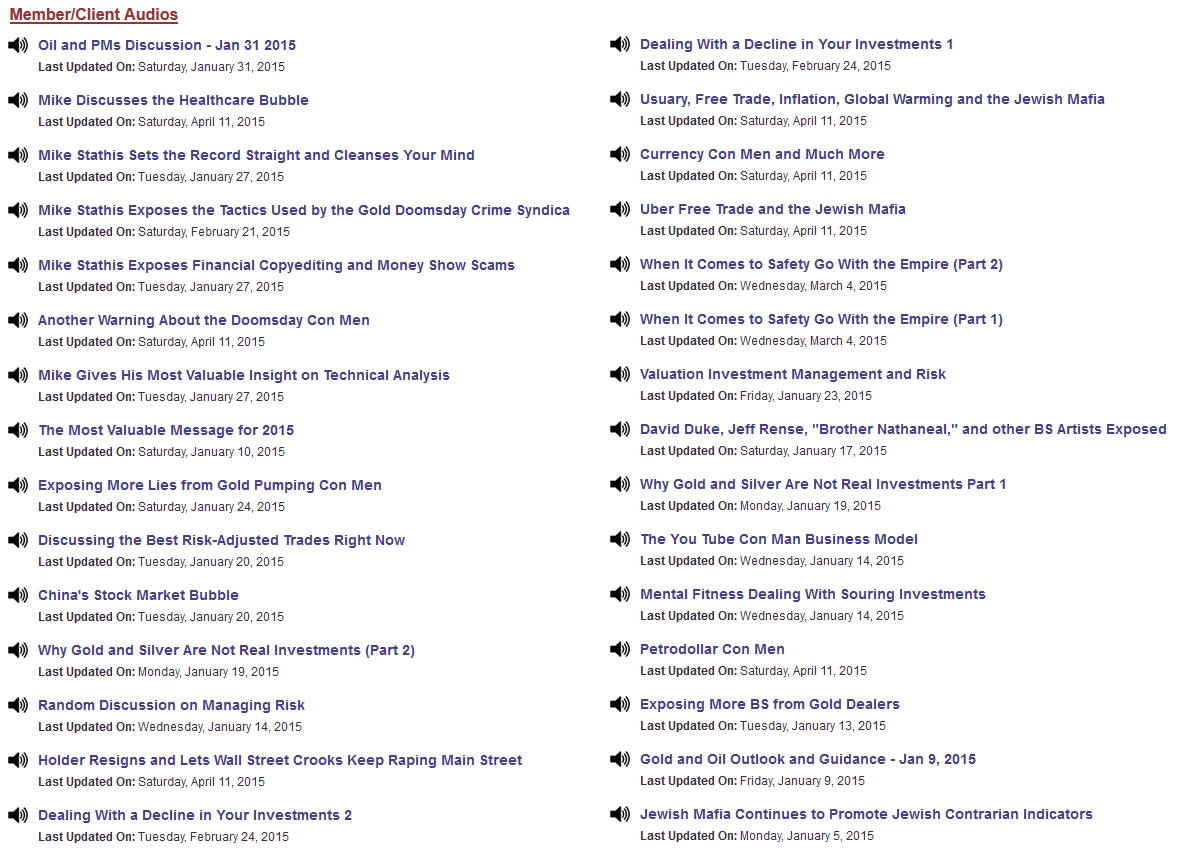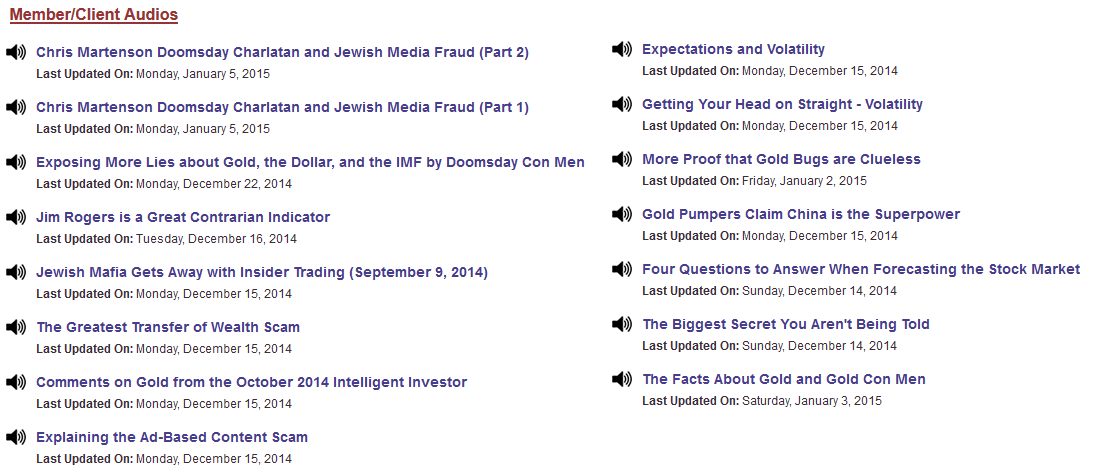 Premium Members receive access to the following special video series.
60 Stocks Poised for Huge Moves

this series of video presentations was published in May 2012 and led to a huge percentage of winning trades. It is presented here for educational purposes only
(the following collection of securities analysis videos is set for release within the next 6 months for Members)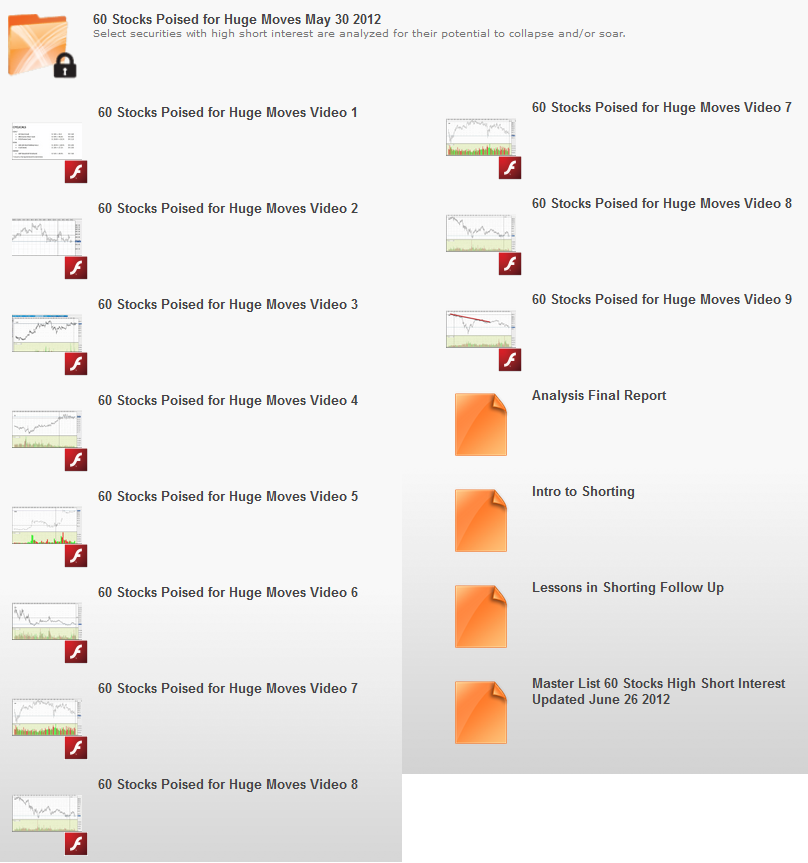 Analysis of 20 Stocks Trading Over $100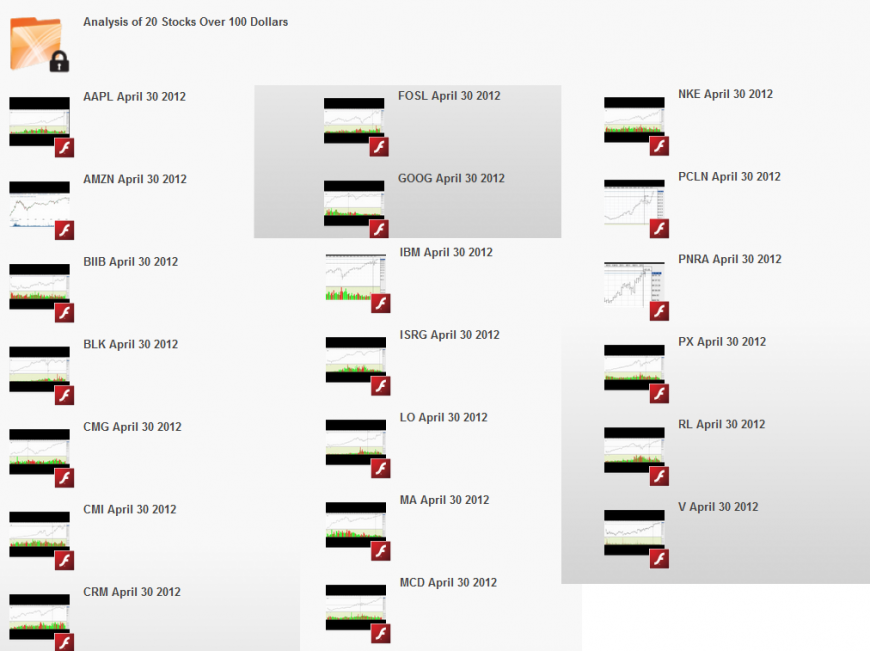 We would like to encourage everyone to SIGN UP as a Member today to not only invest in your investment education, but also to support our work in exposing charlatans, fraud and reporting the truth.*
Click here to sign up and submit payment
*Note: signing up as a Member means you are paying for an annual membership. Anyone who registers as a Member but fails to pay for a membership within 30 days will have their account deleted.
As a part of this special promotion, when you sign up and pay this annual fee, you will be protected against any increases for life (as long as you remain a paying Member every year).
In return for subscribing to our website Membership, you will receive access to the most insightful articles available anywhere, covering economic and investment analysis, detection and con artists, exposing the media and much more.
Almost all of these articles have also been written with an EDUCATIONAL slant, making the vast majority of our articles TIMELESS; that is, they are just as valuable years after they were written.
The educational value you will receive from our ADVERTISEMENT-FREE content is worth TENS of THOUSANDS OF DOLLARS.
Always remember this important fact...
Advertisements = Agendas = Bias = Information Designed to Screw You
Our relationship is with our MEMBERS & CLIENTS, NOT ADVERTISERS, so we hold no punches when writing about the inner workings of the financial industry and other topics.
We focus on our MEMBERS & CLIENTS rather than writing content to fit the agendas of financial firms and other corporate sponsors which are found on 99.99% of all websites and blogs.
Because ad-based content is designed to draw in large volumes of readers, the content is not only slanted, it's GARBAGE.
You might want to take a look at the dangers of free content.
WHO EXPOSED THE DIRTY SECRETS OF THE MUTUAL FUND INDUSTRY?
Mike Stathis, our chief investment strategist did.
Mike is the ONLY Wall Street insider who exposed the FULL reality about mutual funds.
Of course you can also read more about the realities of mutual funds in Mike's landmark investment book, the Wall Street Investment Bible.
Knowing this information alone could be worth tens of thousands of dollars to you.
No one in the financial industry has ever exposed the dirty secrets of mutual funds for one of two reasons. They are either too ignorant to know about them or they do not want to jeopardize losing money from ad sponsors and such.
Click here to sign up and submit payment