Did you make at least 70% shorting JC Penny (JCP) like our clients did?
What about SUPERVALU (SVU)?
Did you lock in 400% on Bon Ton (BONT)?
Did you nail 50% shorting Mako Surgical (MAKO) all the way down like our clients?
Did you lock in 300% in Arena Pharmaceuticals (ARNA) like we did before it went to the moon?
Those who had access to a special video series created by Mike Stathis did.

The list goes on and on.
Nearly four years ago, Mike created two video series to provide traders with his best candidates for huge gains.
The first video series included a 5-hour presentation on the fundamentals and technicals of 20 solid names that were trading over $100 per share.
This video series was called 20 Stocks Trading Over $100. It was released in April 2012.
See here and here for a couple of examples of winning trades from this video series.
Click here for more details.
The following month, Mike released another video presentation. This time it included more than 60 stocks he felt would soar or collapse, some he expected to do both in sequence.
This special presentation called 60 Securities Poised for HUGE Moves was released to interested buyers of the package in May 2012.
The results of his analysis have been mind-boggling, proving once again that Mike Stathis is the leading investment mind in the world.

Here are just a few examples of some winning calls made from this video presentation: [1] [2] [3] [4] [5] [6]

Here, we illustrate yet another example proving once again that Mike Stathis is the world's top investment analyst and forecaster.
More than four years ago, our chief investment and trading strategist, Mike Stathis recommended clients to short JCP in 2011 when it was $35.
He followed that up with other clients in early 2012 and JCP was in the low-30s.
A couple of months later Mike released an analysis of JCP as a part of a special video series called 60 Securities Poised for HUGE Moves.
At the time this video series was released, shares of JCP were trading at over $28 (a brief excerpt of Mike's analysis on JCP is in the video below). Recently, shares of JCP closed under $7.
That means you could have made as much as 75% of you had access to this special video presentation.

The media keeps telling you what "great" investors these guys are. Too bad Bill Ackman, George Soros and Kyle Bass didn't have Mike's research. They could have avoided losing billions of dollars.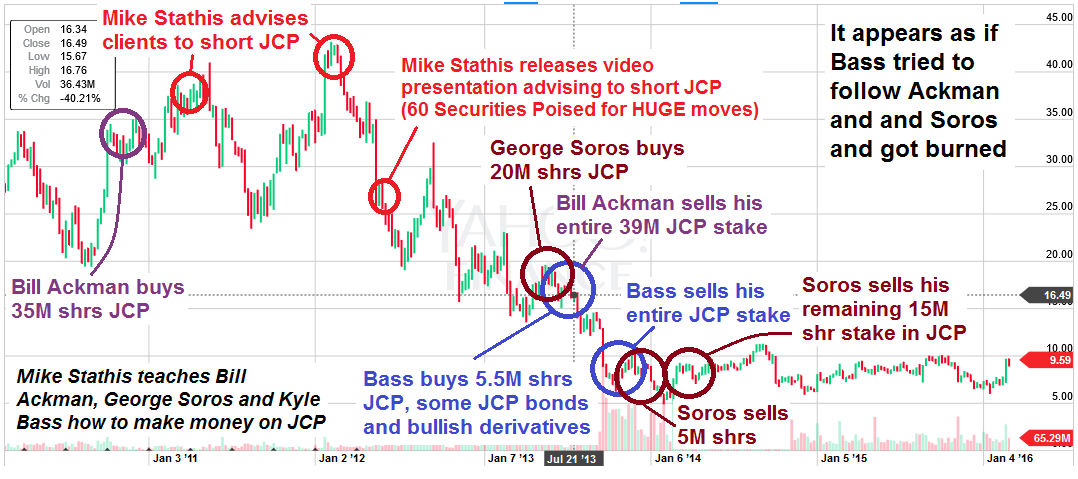 We even posted a FREE excerpt of the analysis AVAILABLE to the GENERAL PUBLIC when JCP was trading at over $20.
That means that even if you failed to purchase the original video series which advised investors to short JCP at $28, you still could have made up to 70% if you had listened to this freebie which was released when JCP was still trading at over $20.
Have a look here.

Wouldn't you like to get patched in to the analysis that led to these huge gains so you can see what Mike was thinking?
Over the years Mike has provided countless "freebies" which could have enabled any alert investor to land huge sums of money. But if you're waiting for more of these freebies, don't hold your breath because we can assure you they aren't coming.

If you are a serious investor seeking to learn how to gain the kind of insight that leads to great investment returns, you owe it to yourself to watch and study these videos, packed with 9 hours of unique investment intelligence from one of the world's top investment minds, Mike Stathis.

This 9-hour video series 60 Securities Poised for HUGE Moves was originally offered for $899 to the general public (excluding professional investors) and $599 to newsletter subscribers.
The other video series 20 Stocks Trading Over $100 also yielded spectacular returns. It was originally sold for as high as $799 ($599 for Member and Clients).
The analysis for many of the securities in these video series remains relevant nearly four years after the presentation was first made.
Similar to most content Mike publishes whether it's his landmark books, articles or videos, we believe these two video series will remain valuable for many years to come because of the unique educational content provided by Mike.

We are giving this full analysis away for free, 60 Securities Poised for HUGE Moves, as well as the other presentation, 20 Stocks Trading Over $100 to those who sign up or renew Membership or purchase or renew an annual subscription to one or more of our monthly investment research publications.
That's nearly 15 hours of securities analysis from one of the world's leading investment minds and the man who holds the leading investment forecasting track record since 2006.

See here for Member Resources.
Click here to download two chapters from Cashing in on the Real Estate Bubble.
Check here, here and here for more evidence proving that Mike Stathis predicted the extent of the real estate bubble and resulting financial crisis with more insight and accuracy than anyone in the world.Note that this was just the "tip of the iceberg" as far as his predictions and insights.
Forget the sub-primes. The trouble with these risky mortgage stocks was obvious to leading experts. While Mike Stathis recommended to short an entire basket of the sub-prime stocks, he took things to a much higher level with one of the boldest calls in investment history. The truly amazing call he made was to also short the prime lenders, Fannie Mae and Freddie Mac.
Furthermore, he even predicted the collapse of the banks, hombuilders, GE and GM. No one else in the world made those calls before the financial crisis. And Mike put it in a book in 2007.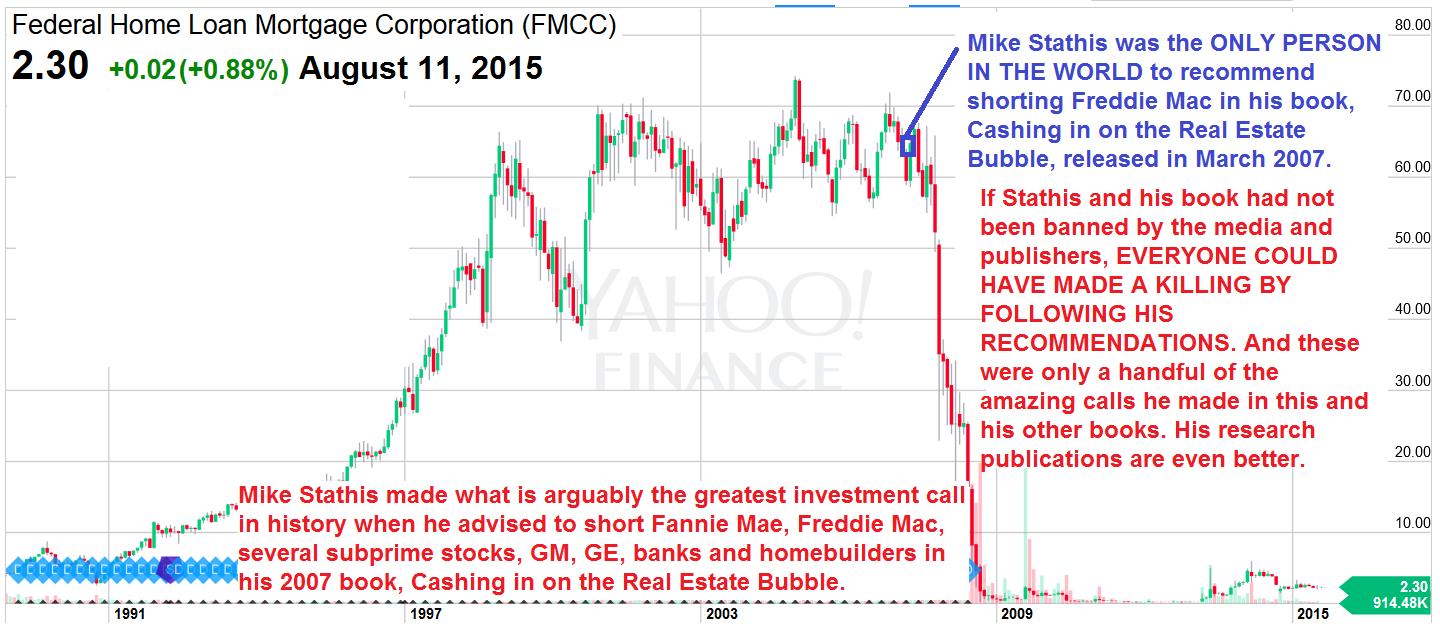 It is a fact that there were no books released at any time prior to for after the release of these books which remotely came close to pinpointing the details and accuracy of the events as they would later unfold. And this serves as just one of numerous illustrations.
Mike also accurately forecast the bottom in real estate (35%) in 2006 (the bottom was reached in 2011), the bottom in the Dow Jones (6500) in 2006 (the bottom was reached in March 2009) and much much more.
Proof That Mike Stathis Has The Leading Track Record On The Economic Collapse
Furthermore, Mike is the ONLY person in the world to have predicted the extent of the collapse who ALSO turned BULLISH on the US stock market at the EXACT BOTTOM on March 9, 2009.
Not only has he since kept his research clients in the market the entire time, he has also accurate forecast nearly every single market selloff since 2008 (as of 2016).
Stathis Nails The Dec 2014 Market Selloff With Stunning Accuracy
The Media Has Banned The World's Leading Investment Forecaster
World's Best Market Forecaster Continues To Be Banned By The Media Crooks
Mike Stathis MUST Have A Crystal Ball. He Nailed The Market Correction AGAIN (excerpts only)
Mike Stathis Nails The Stock Market Correction AGAIN, Top To Bottom
Where Is The Stock Market Headed? Let's Ask The World's Best Market Forecaster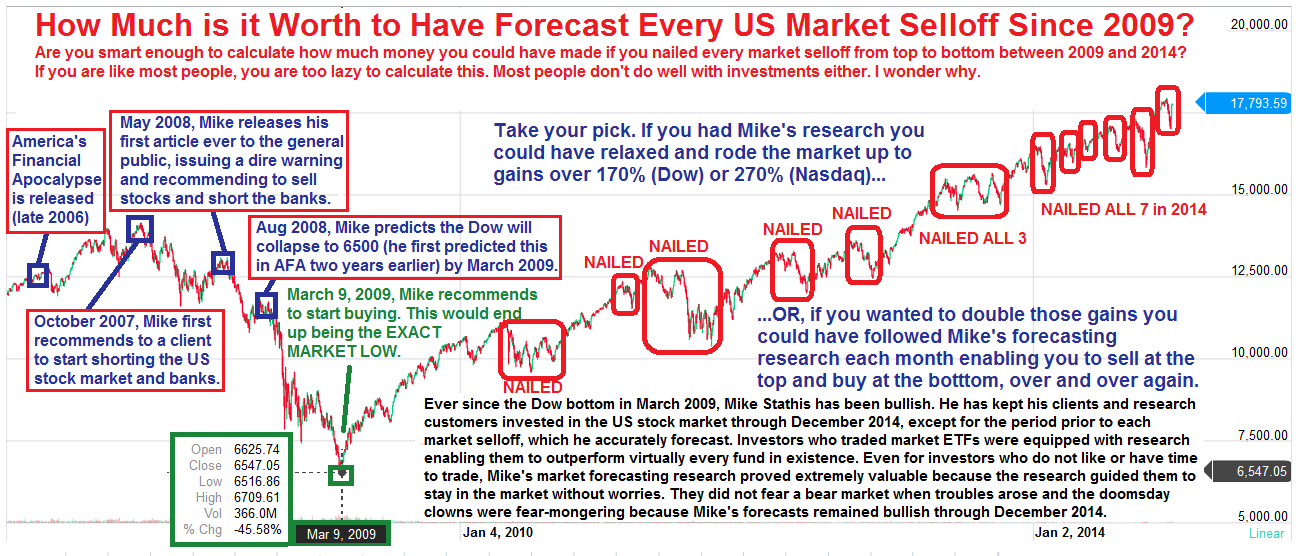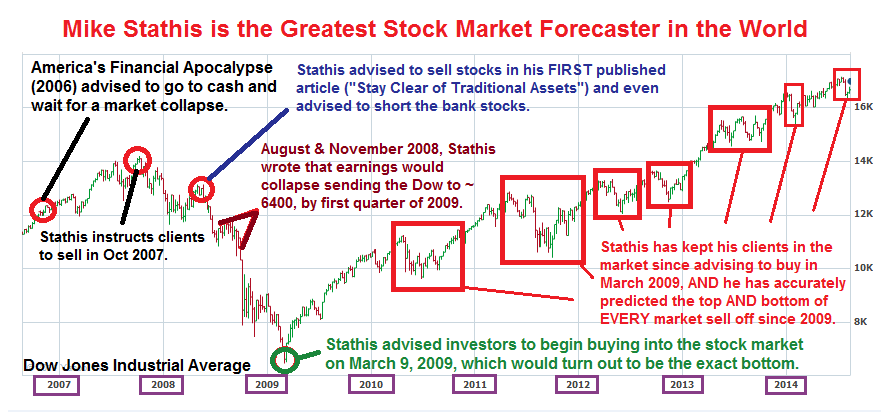 Note that in late-2014 and increasingly in mid-2015, Mike began advising clients to raise net cash on rallies.

Meanwhile, Mike Stathis was banned by all major publishers and continues to be banned to this day despite holding the leading investment forecasting track record since 2006.
No one has even dared to challenge this claim despite our (previous) $100,000 guarantee or our (new) $1,000,000 guarantee.
The Jewish media crime bosses prefer to simply ignore those who speak the truth and threaten to expose them as the best way to hide the scams from the public. In contrast, the Jewish media crime bosses continuously promote Jewish con men and clowns who have terrible track records as a way to enrich them all while steering the audience to their sponsors, most of which are Jewish Wall Street and related firms. Figure it out folks. It's not rocket science.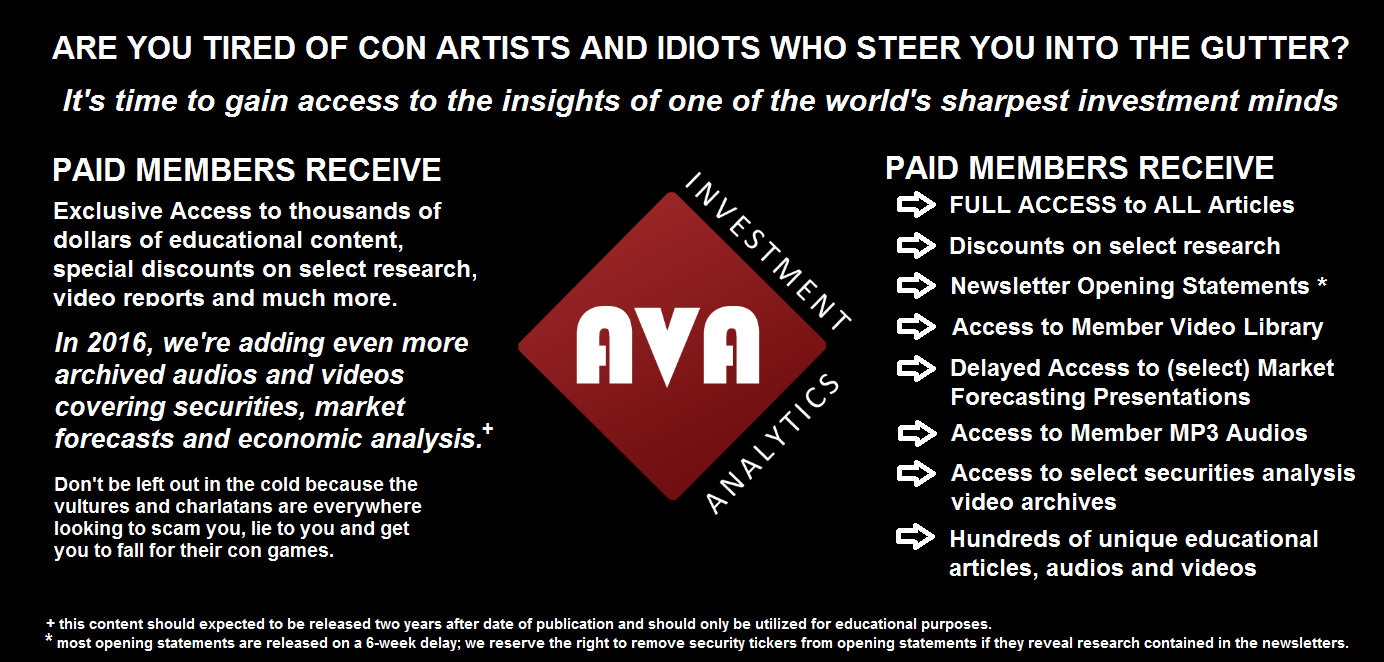 __________________________________________________________________________________________________________________
Mike Stathis holds the best investment forecasting track record in the world since 2006.
This is the chapter that shows where Mike recommended shorting Fannie, Freddie, sub-primes, homebuilders, GM, GE, etc.
__________________________________________________________________________________________________________________