That's right folks. Once again, Mike Stathis nailed the market selloff before it began, helping to position his clients in cash. Everyone from Wall Street and the media clowns have been completely behind the curve as to the realities which have only recently been acknowledged by the masses.
In contrast, as subscribers to our world-class investment research are aware, we have been warning about and in fact predicted the collapse of the commodities bubble, China and global deflation for a long time. But rather than play chicken little, we have kept our clients in the stock market up until before the recent collapse.
We have also enabled our research clients to accurately time every single market selloff since 2008.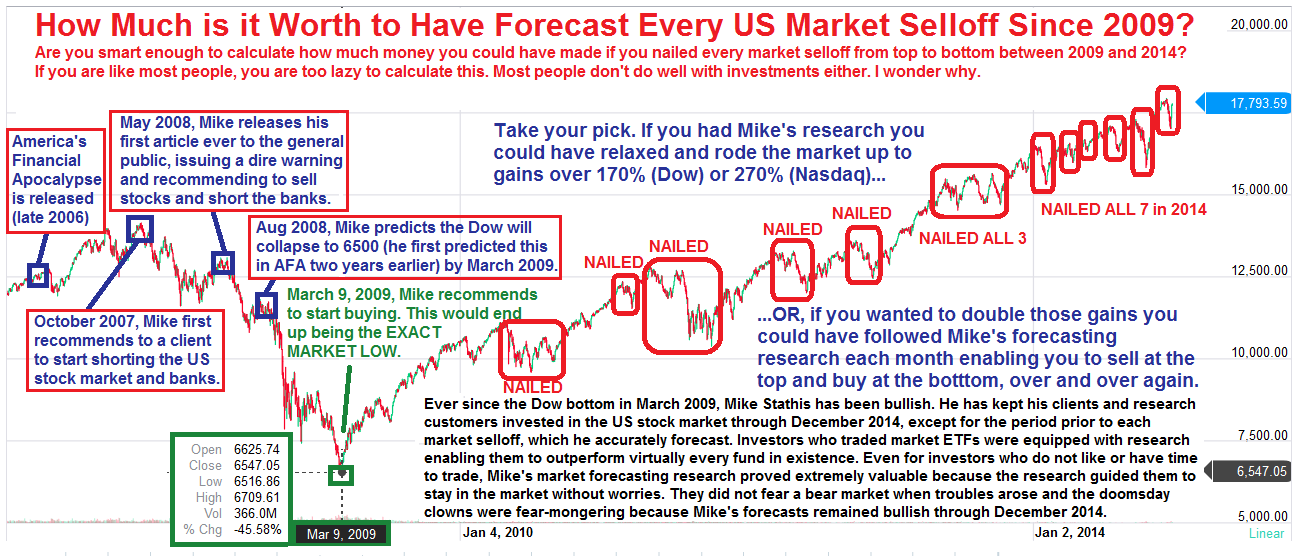 Expect price increases soon.
The longer Mike is banned, the more you will have to pay if you want our research.
Don't blame us. Blame the media. They are causing us to raise prices.

It's basic economics. Exposure rules. This is why idiots who have missed everything can make $50 million selling useless books while being completely wrong on just about everything. This is the same man who has lost most of his own money due to his reckless investment moves. This is the same man who was suspended from the financial industry for cheating his clients. This is the same man whose father is in prison.

Again, why is the media airing contrairan indicators and con men on a daily basis while continuing to ban Mike Stathis? Is Stathis Jewish? No. Would Stathis' insight benefit investors? Yes.
Now you know why Schiff, Faber and the other clowns are promoted as experts while the Stathis is ignored.
Call out the media. Email them and let them know you know what they are up to.
Send them links to our videos exposing clowns like Schiff, Faber, Dent, Rogers, etc.
No one in the world can touch Stathis' track record and that is a fact.

For those of you who do not have our research, good luck trying figure out what is going on by paying attention to the con men and idiots in the media :)
And if you think our rates are high now, just wait and see where they are going.
Mike is the best and his research is priceless. He would prefer to give his research away but so long as he continues to be banned, rates for his research will continue to rise at a rapid rate.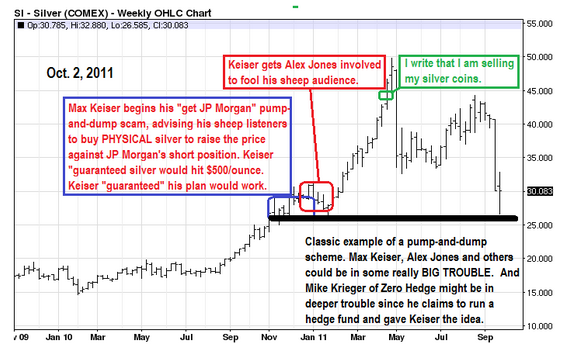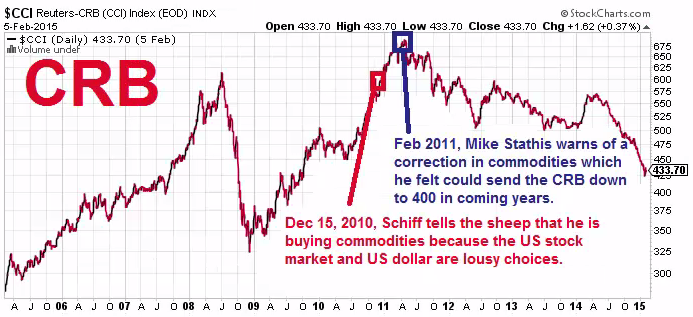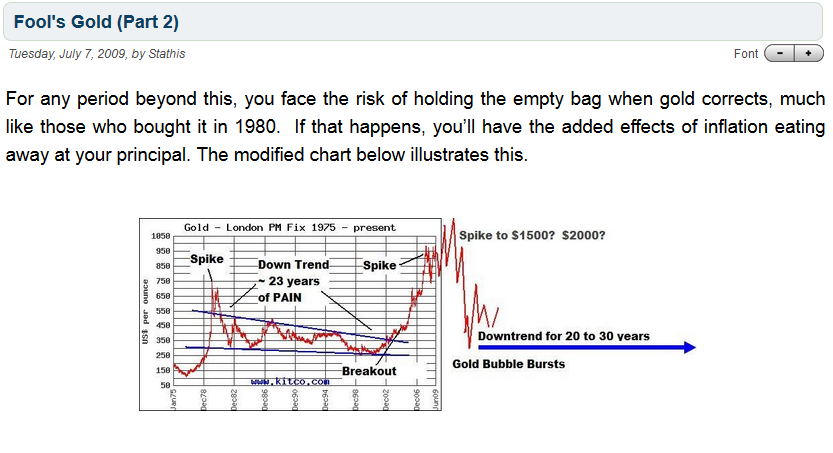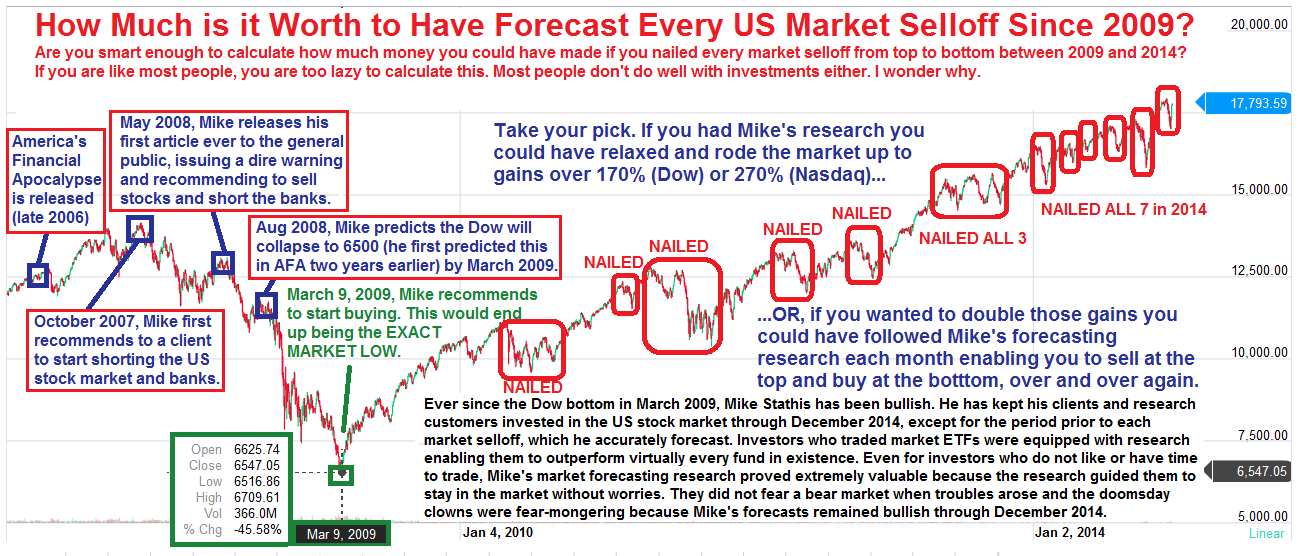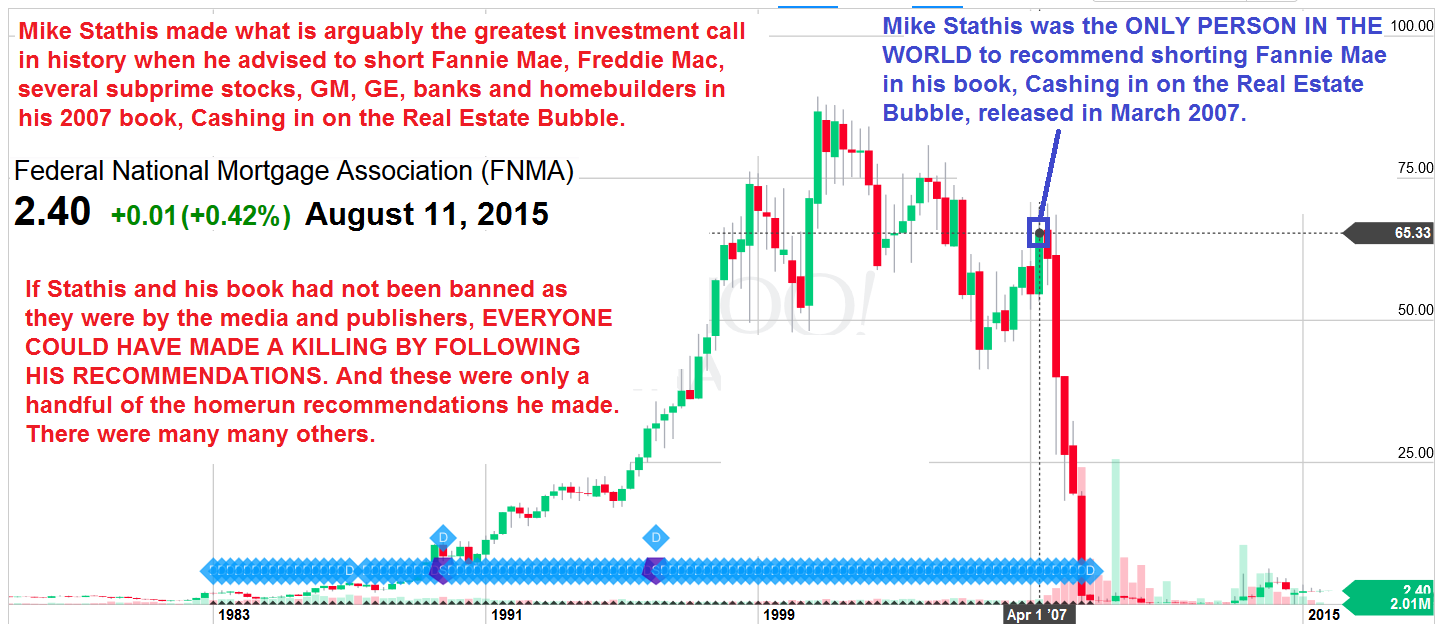 Mike Stathis Sets The Record Straight And Cleanses Your Mind
Some Videos Showing Stathis' Track Record:
Proof That Mike Stathis Has The Leading Track Record On The Economic Collapse
Stathis Nails The Dec 2014 Market Selloff With Stunning Accuracy
The Media Has Banned The World's Leading Investment Forecaster
World's Best Market Forecaster Continues To Be Banned By The Media Crooks
Mike Stathis MUST Have A Crystal Ball. He Nailed The Market Correction AGAIN (excerpts only)
Mike Stathis Nails The Stock Market Correction AGAIN, Top To Bottom

Where Is The Stock Market Headed? Let's Ask The World's Best Market Forecaster
__________________________________________________________________________________________________________________
Mike Stathis holds the best investment forecasting track record in the world since 2006.
This is the chapter that shows where Mike recommended shorting Fannie, Freddie, sub-primes, homebuilders, GM, GE, etc.
__________________________________________________________________________________________________________________
The Media Has Banned The World's Leading Investment Forecaster
World's Best Market Forecaster Continues To Be Banned By The Media Crooks
Stathis Nails The Dec 2014 Market Selloff With Stunning Accuracy
Mike Stathis MUST Have A Crystal Ball. He Nailed The Market Correction AGAIN (excerpts only)
September 7 & 12 Forecast (excerpts only)
July 11, 2014 Forecast (excerpts only)
April 2014 Forecast (excerpts only)
January & February 2014 (excerpts only)

December 2013/January 2014 (Excerpts Only)

January through February 2014 (Excerpts Only)

July through August 2014 (Excerpts Only)